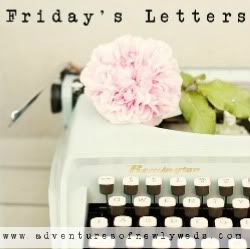 Today I am linking up with Ashley over at the "Adventures of Newlyweds" blog. That's the newest blog I'm following, I just clicked "follow" about 10 minutes ago! :) I highly recommend all of you marching over there and doing the same. I spent a few minutes browsing around before I committed to following them. But I'm particularly excited about their current home in Myrtle Beach, SC because that is (roughly) where my husband and I live! :)
Anyway, Friday's Letters. Here we go.
Dear Thermostat At Work, please stop jumping up to 80 degrees every day at noon. this is an office. not a sweat shop.
Dear Work Day, please pass quickly! hubs and I have a really exciting weekend planned! We are going to a concert at the House of Blue's tonight. Bush. I am so excited! It's one of the few bands that we both enjoy. Also, I've never been to an "English" or "British" concert before so this is something new! :) Then, we are going Christmas shopping tomorrow and just enjoying some much needed down time and QT before hitting up an amazing Christmas show at the Carolina Opry. I am pumped!! So please, 5:00 pm, get here STAT.
Dear Mr. Robinson, do you know how much I love you? Do you know how terrified I am of moving away from my parents? I love you for being so patient. I love you for constantly reminded me to "pray about it." Obviously, prayer is the way to go. Sometimes I spaz out. Thanks for calming me down. You are my chamomile.
Dear Zombie, I'm not sure what's wrong with you today. Please stop wheezing and growling at everyone. It makes me nervous when you don't act like yourself. You know that mommy & daddy cannot afford a huge vet bill right now, so please get your act together. And be good for my grandparents this weekend!
Dear Stomach, it's time for me to go pick up lunch for my & my coworker! Hurry up & decide what you want to eat.
Dear Followers, I am so thankful for each of you! :) My little baby blog is growing and growing, and it is such an exciting thing to watch! I hope that you'll send all of your friends over...I love getting comments & advice & suggestions. I am so happy to all of you who follow my ramblings.
XO's!