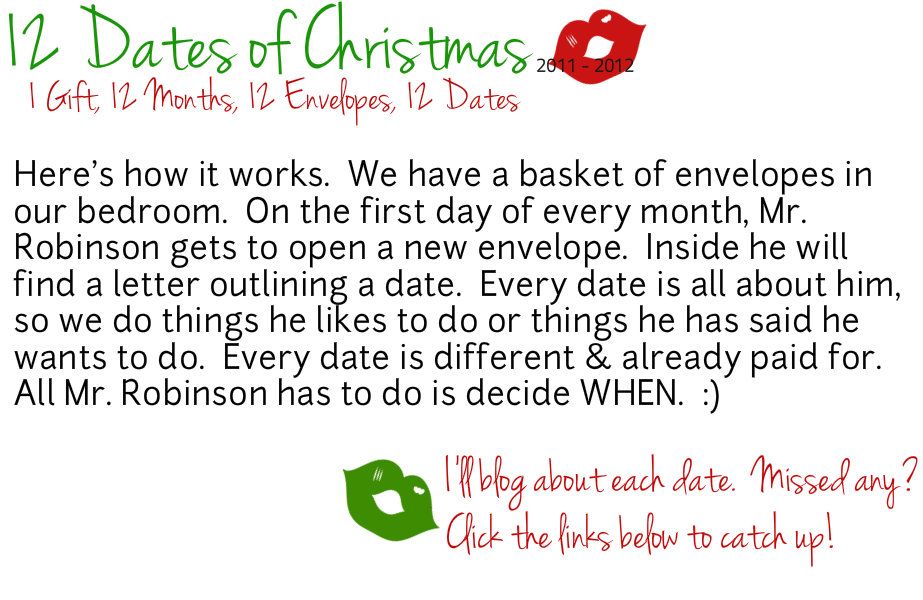 The First Date of Christmas: January
The Second Date of Christmas: February
The Third Date of Christmas: March
The Fourth Date of Christmas:
April
The Fifth Date of Christmas
Remember how last month was a flop? Yeah, that happened again. Whatever...judge me all you want. I blame it on my husband. Isn't that why we all got married in the first place? Now, I always have someone to blame my mistakes on! Hooray! Go marriage!
Anyway.
I was SO excited about this date! =) I gave him an envelope filled with all sorts of treasures.
All he had to do was pick a place he'd like to visit for a one-day vacation. SO simple. He could go crazy here! I was expecting for him to say something like "India" or "The Bahamas" or somewhere that has a theme. The plan was for him to pick a place, and I would turn our extra room over the garage into the destination he chose. If he chose India, I would decorate the room to look like India. I would cook Indian food. We would listen to Indian music. We would play an Indian board game or watch a movie set in India. Makes sense, right? All he had to do was pick a place with a theme I could work with.
He chose "The Snowy Mountains." Let me remind you that May in South Carolina tends to be rather warm. That made the whole idea of sitting around a camp fire sound pretty miserable. What do people eat in the mountains? Oh...you know...regular food. It was theme I could not work with. And so the month came and went and I didn't follow through with the date I promised.
Oops.