Do y'all know Lauren? Hands down my favorite blogger. So...go read her blog.
She encouraged her readers to write a post about the past year. Since I was not a blogger until October, and this past year was basically the most important year of my entire life...I thought it would be a great little activity!
ALSO, she linked up with Brooke over at Silver Lining. She's doing a linky-party for these types of posts! :) She is adorable, their engagement pictures are slap-you-in-the-face amazing. And their love story was super fast - just like mine - and I love that! :)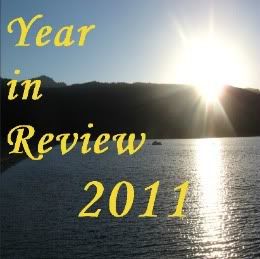 You should totes m'goats go check out these two amazing women and join in on the fun that is remembering a year's worth of smiles, tears, and surviving.
So, without further adieu, here is what my 2011 looked like.
Please keep in mind that this has been the craziest, busiest, and most full-of-change year in my entire life and I'm going to extraordinarily honest.
All years start with the same day. (Deep.) So what was I doing when the ball dropped and it officially became 2011? I was sitting alone in my one bedroom apartment. I was hung-over and had been dealing with the most dreadful hangover of my entire life all day. I partied entirely too hard the day before New Year's. I snorted pills for the first time. I was snorting pill after pill after pill, I was smoking pot, I drank an entire bottle of wine, I drank beer, I took shots. I passed out. Classy. All of those toxins in my body made for one heck of a hangover. So I sat alone, smoking pot and self-medicating as I watched the ball drop. I remember feeling lonely.
January was when Mr. Robinson was trying to woo me. I was not being very responsive. However, according to my nifty Facebook timeline, on January 10th I posted a status that I remember wanting him to notice. It reads, "shouldn't we hold out for the person who doesn't just tolerate our little quirks, but actually kind of likes them?" It's a How I Met Your Mother quote, and I remember it reminding me of Mr. Robinson. :) And come to find out...he did notice it. And had hoped it was about him. And it was.
January 23rd was the day I got this tattoo. Mr. Robinson drew it for me. We were "just friends" then. He said that this was the day he knew for sure that he was in love with me.
In the first week of February, one of oldest and dearest friends called me Auburn, Alabama (where she attends grad school) in hysterical tears. Her first boyfriend, a man she dates for several years and was hopelessly in love with, had broken up with her because she had chosen a grad school "too far" away from him. She was upset. I made some arrangements with work and traded shifts (I was waiting tables at Ruby Tuesday during this time), hopped in my car, and off to 'Bama I went! My friend needed me!
I did a good job of cheering her up and raising her spirits. The worst part was that this happened right before Valentine's Day, poor dear! While I was there, I realized that I missed Mr. Robinson. Weird.
On February 13, we went on our first date. :) He asked me to be his Valentine, but we both had to work on Valentine's Day. We decided a few days later that Feb. 13th was actually the day we started dating. Haha, we are dorks.
Two weeks later, we started talking about marriage and love and foreverness. And started planning our wedding.
On March 15, he proposed! And extreme wedding planning began.
On May 12th, we took our engagement portraits at Atalaya Castle. It's a place that I've been to thousands of times and everyone from around here takes pictures there. It is still beautiful. "The Castle" was built as a residence in the 1930's. It was to be used as the Huntington's winter home. It is absolutely gorgeous. Read about it here.
May 23rd was Mr.'s 23rd birthday. I have him lingerie but he had to hold onto it until we were married. He kind of hated it...it was a big flop. I thought he would love it haha. He thought it was a mean trick.
In June, I started bartending at Ruby Tuesday's! It was such a great skill to learn and I had fun learning how to do something new. Waiting tables had stopped being challenging and had started only being a pain in my rear.
June 2, I went to Charlotte to see Kenny Chesney with a dear friend of mine. She has MS and is in her early 30's. She has three small children. Her name is Cristine. We met waiting tables, something she started doing to meet people. Her MS was not very advanced at all, and I just fell in love with that girl's soul. We got insanely trashed at the concert...I cried because I knew I was making a memory with someone I would always cherish, and we jumped over baracades to get close enough to touch Kenny. And we succeeded!
In pop culture news, June 7th was the 18th birthday of the text message. :)
On June 19th, I went to Mexico for a week with my parents and younger sister. It was our last vacation as a family of four. While on the trip, I convinced my mom that dolphins making oinking noises like pigs when they eat. hahaha
On July 5th, Casey Anthony was found not guilty. I was an avid follower to the trial and was very upset by this!
July 12th was my very first bridal shower! Mrs. Tammy, my old Sunday School teacher from my days in youth group threw it at her new home. It was for all of my mom's best friends and my close family members. We also invited my MIL-to-be. The type of shower was a pounding, where they brought goods to fill our pantry. Best. Shower. Ever! So much fun!
July 13th was my first day not working at Ruby Tuesday and my first day of working (again) at the family business! I moved out of my apartment in the city, back home with my parents, and started working for the family again! Whoop Whoop!!
July 24th, we went to the mountains with the Robinson family! :) They go a "Pig Jig" up there every year, and it was my first time going! So much fun, it was a beautiful place, and his 80 year old Nana drank moonshine. Haha
July 30: one of my best friends got married!!! :) Hooray Brittany! She's also one of my bridesmaids and I was one of her maids-of-honor (she had two).
August 14th was my bachelorette party! It was just me, my three bridesmaids, and one of my best friends. :) We went to a pottery painting place and painted pottery for our new home! Then we went out to eat, and to a comedy show! It was amazing and I cherish the pottery we made! Each of us made a piece, but I got to keep it all. :) I made a cookie jar for our kitchen. My sister and maid of honor made a decorative plate with bride and groom stick people on it, "The Robinson's" across the top and our wedding date across the bottom. Brittany made a trivet that says "love." Lizzy made a vase. Emily made a ring holder for me, with my new initials on it! And finally.....we all decided that a little snake figurine would be a perfect thing for my dresser, to always remind me of my bachelorette party. Lizzy painted the snake skin colored, with a "blue vein" on it's back. haha Oh, and it was...of course....winking.
August 27th, my parents had a cookout shower for us at their house on the river. Everyone from the wedding was invited, but hurricane Irene kept most people away. We still had fun though, and had the most precious cake!
September 5th was the day we went on our last date as an engaged couple!
We applied for our marriage lisence on September 6th!
September 11-19, we were in St. Maarten on our amazing, fairytale honeymoon!
October 13, we went to Scarowinds and I was too scared to ride anything!
I started this blog on October 27th!
And then....of course....Christmas. :)
At Ma and Pa's house, Christmas Eve
Photo by: Aunt Missy
At Our House, Christmas Eve
Photo by: Daddy
How did 2011 treat you?