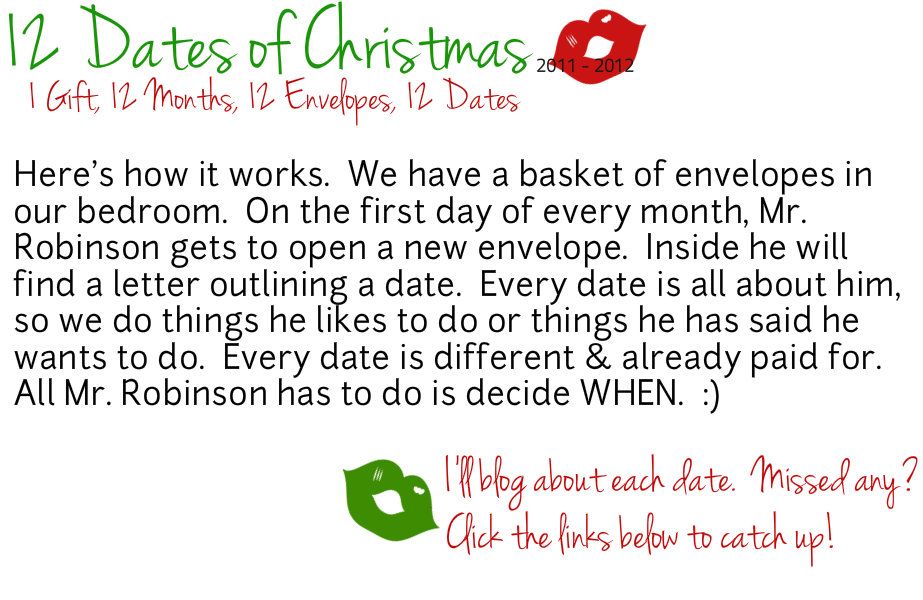 The First Date of Christmas : January Date
The Second Date of Christmas: February Date
The Third Date of Christmas
This date is sort of a month-long date. I gave him a book of coupons, all of which expire on March 31, 2012. He procrastinated and waited until the last minute to use up all of the coupons, so for most of the month it felt like there was no March Date.
March 17, 2012
The first coupon he used was picking me out an outfit to wear. Basically, when redeeming the coupon, I had to wear whatever he told me to wear. It gave him a lot of power, he could have made me wear my wedding dress to the grocery store or a winter coat to the swimming pool. However, he did the man thing, and one Saturday when I got out of the shower, there was the coupon and one of my little naught outfits laying on the bed. Haha! No pictures..
March 22, 2012
"Good for a night of us watching sports & drinking cold beer!"
So we watched some spring training game. I didn't drink any beer. Ew. And we've been out of wine, so..it was a dry party for me. I didn't mind. I just blogged. And made him pose for pictures. :)
And then things got complicated. There is a band called Sequoyah Prep School. My husband is obsessed with them. No, you haven't heard of them. They are still a small band, but my husband knows the band members from high school or maybe college, and I do dig their music. Don't take my word for it, hear for yourself! This is my favorite song of theirs..so far.
So anyway, that's them and they are from Florence, SC but live in Charleston, SC and played a show in Charleston on March 30th. It was $10 to get in and my husband wanted to go. Except...his wanting to go and informing me that we ARE going has ruined our April Date. Which was...going to see Sequoyah Prep School in concert. Haha.. so I gave him the April Date Envelope on March 26th and extended the coupons expiration date to April 30th. In a way, the March Date becomes the April Date and the April Date becomes the March Date. Hmm....so we'll pick up next month with the coupons. :)
After we got to Charleston, we ate a small Mexican restaurant downtown. It was cool. My latest favorite drink is a strawberry vodkarita. I don't do tequila very well and I don't really care for the flavor. So, replace the tequila with vodka. :) As y'all know, I'm a light weight these days and can't have a drink without catching a buzz. Did that stop me from ordering more drinks once we got to the concert? No...
I may have drank a little too much...
The concert was fun. Mr. Robinson knew the singer from the band, and I got to meet him. They aren't really big,but I think that it's only a matter of time before they make it. We had a good time. I wish I had felt a little better...all of the alcohol had me not feeling so hot. And the girls dancing all over each other had me thinking that maybe I've outgrown bars full of college kids. It was bittersweet...but my husband was happy as a clam. He's a music lover, and I have feeling that loving him will keep me young. =)
Can't wait to share the coupon details with y'all next month!