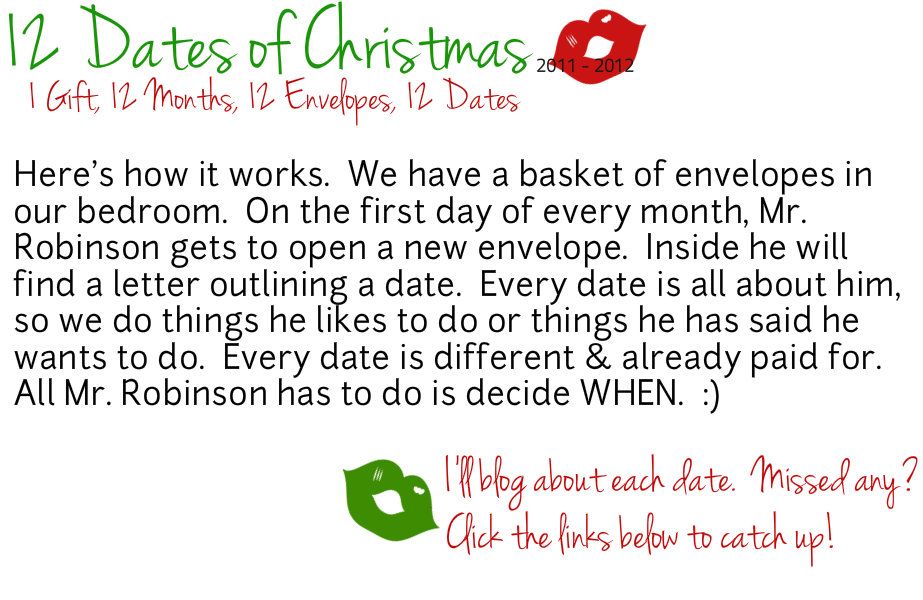 The First Date of Christmas: January
The Second Date of Christmas
February 1, 2012
Mr. Robinson opened the envelope.

Inside the envelope, he found a sweet little note explaining the date, a $15 Subway gift card, and a stick-on tattoo from Moe's (pictured above)
He learned that we would be going back to our new favorite tattoo artist to get our next tattoos together!
Chose February 4th as the day for our tattoo date. I should have known he'd pick the very first Saturday of the month!
My panic set it, because I now had three days to decide on my next tattoo.

Don't get me wrong! I had

plenty

of tattoo ideas bouncin' around in my head...but I'm horrible with decisions. I am your go-to idea girl! But never except me to DECIDE anything. I panicked for three days. I didn't actually decide on my tattoo for sure until we showed up at the tattoo parlor.

We dumped out the piggy (okay, it was a turtle) bank and counted over $40 in quarters alone! It was officially decided that we would use the change to help pay for our new ink!
We were both SO excited! Especially, Mr. R. He has been trying to talk me into getting another tattoo with him for months now. Y'all. He was out of control! I knew that our tattoo date was coming up, and talking him out of getting a tattoo in January was oober-difficult.
We both looked forward to this date for THREE days! Oh, the anticipation!
Saturday
February 4th
I really needed to work out before our date, and somehow convinced Mr. Robinson to come with me! Well, I worked out. He played air guitar, and lifted the occasional weight. He's so precious. :)
We came home, showered, and got ready to go get our tattoos! I seriously cannot convey our excitement to y'all. I mean, we're tattoo people. Y'all know that, right? I have 5 tattoos, now. I've written posts about mine. I think one is even off to the side under most popular posts. Mr. has even more than I do. He's working on two sleeves, and he has one on his chest! :) I always knew my prince charming would be covered in tattoos. We're lucky - because we both find tattoos attractive on the opposite sex. Pretty convenient. We were made for each other. :)
We got in the car and started in our hour-long drive into civilazation, and to our favorite tattoo artist, Mike!
Oh, and we took some funny pictures along the way. :)
We stopped at Kroger and paid a stupid machine to count our change. We were happy. Cashing in coins for dollars is always fun. It's like finding $60 you didn't know you had! We were delighted. Duh.
So we took one nice, normal picture.
We arrive at the tattoo parlor, where Mike works. He was finishing up a tattoo for another client when we got there.
Mr. R & I fiddled on the computer with different fonts, sizes, and spacing for my tattoo. Mr. Robinson then started to play around with his tattoo - words written in Hebrew. He was having a hard time. The letters were showing up as a mirror image for some reason.
Mike finished up his other tattoo, and Mr. R showed him the tattoos we were going to get. We explained to him the problems we were having with Hebrew. Luckily, Mike has a co-worker named Shay! Shay is a Jewish man who can read and write Hebrew. Shay was with a client, but Mike promised to have Shay look at it when he got a break. Mike pointed out some problems with the font I had chosen. For example, it was a little hard to read. He asked me if he could play with the font in Photoshop and make the words more legible. I, obviously, said yes. So Mr. Robinson and I went to go grab some food from Subway while Mike was working.
On our way to the nearest Subway, hubby saw Chic-Fil-A. That's his favorite fast food place. So, we stopped and had Chic-Fil-A instead. It was delicious!
Then, we headed on back to the tattoo shop! Shay was with a client and unable to take a break yet to look at Mr. Robinson's Hebrew quote. Mike did my tattoo first because he had finished working with the font. Yay!
First, he placed it higher up on my shoulder rather than on my back. I asked him to move it down some, so that I could still hid it if I needed to. In the picture below, you can still see the first stencil. I'm so happy with the placement of my tattoo!
He did the bottom two lines first, took a break, and then finished off the top line. It took a little over an hour, I think. It turned out perfect, y'all! I love it so much!

One thing we love about Mike is that he's not heavy handed. If you've ever gotten a tattoo that left your bones and muscles sore for weeks or even months after the tattoo has healed, you've dealt with a heavy-handed artist. We just love Mike. The tattoo bleeds, scabs, itches, & then it's healed. He's never left us sore after a tattoo. He's a great artist. Super nice guy. If you're ever in Myrtle Beach, go to Elite Inc. Tattoos and ask for Mike! :)

Below is a picture of my tattoo after one day. I am still SO excited! I love the placement. I love how painless it really was. I love how the middle line about laughter is curvy! Love, love, love! :)
After my tattoo was finished and perfect, we all went outside for a break. I, personally, needed a cigarette. Yes, I have quite. But a cigarette after a new tattoo is tradition! Plus, Mike needed a smoke break. He also needed to rest his eyes and hands.
Funny Story! While we were taking a break, an older man driving through the parking lot came to a stop in front of the tattoo parlor. He was driving a Porsche. He was orange. He had a younger lady with him. She, too, was orange. I'm talking oompa-loompa orange, they were. It's also the middle of Winter. The windows of the car were already down, so he shouted to us "Do you guys know where the nearest tanning salon is?" We all just kind of looked at each other...Mike said "No, dude. Can't say that I do." The orange man rolled his eyes, revved his finely tuned, expensive engine.....and stalled out. It was the FUNNIEST thing I've ever seen! Mr. Robinson said "First time driving a stick?" And he got all embarassed, cranked up his car, and drove away. It was GREAT!

Finally, Hebrew-Speaking-&-Reading-Shay got a break. He looked at Mr. Robinson's Hebrew translation we found online. It was wrong!

The translation Mr. R had found was overall incorrect. Shay described it as "jibberish." The words meant nothing together.
Mr. R was wanting a New Testament verse written in Hebrew, and Old Testament language. Some New Testament words & concepts don't translate into Hebrew.
English reads right to left. Hebrew reads left to right. When we would copy a translation off of the internet into a Word document, the "pasting" action reversed all of the Hebrew letters so that they were mirror images of the actual Hebrew letters.
They would have to take each letter and flip it. Individually. One letter at a time. It would have taken hours. And even after they would have finished, the translation would still be wrong.
Shay has Hebrew Photoshop on his lap top at home, and said he would be happy to help with a translation if we would make an appointment to come back. But we had an appointment with Mike for that day, and wanted our tattoos that day.

Mr. Robinson decided to get his tattoo in English. :) He also chose a similar font to the one my tattoo is in! We both loves the font. Mike just made Mr. Robinson's font a little less loop-y.
Mike did the top line first and took a break. Mr. R's tattoo didn't take as long as mine. But it cost the same amount because of all the time we spent with translating and trying to perfect the quote he chose.
How lucky am I to have a husband who would WANT this Bible verse tattooed on his arm?! He picked it all by himself. I never even so much as suggested it. I was absolutely swooning the entire time. It was the best day, ever! :) I can't wait for our March Date! Yay!
What do you think of our new ink?! :)