Happy Friday, errybody! I know that most of you are probably just as STOKED as I am that the work-week is over. Maybe not...because I am acutely aware that most of you hussy's get to work from home or at home and I hate you get to be stay at home wives & mothers, much unlike myself. I don't really hate y'all. :)
Anyway, linking up with Ashley for Friday's Letters! The one linky-party where you get to write about ANYTHING you want and still be allowed to participate!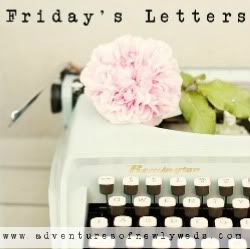 Dear Windy Day, Thanks so much for blowing my dress up in the parking lot of a print shop in town earlier, when I was there to pick up my professional business cards. No telling what kind of professional they think I am now! Oh well, it was funny. And for some reason, not at all embarrassing to me. That I don't understand.
Dear Mr. Robinson, I love you so incredibly much for this, a little thing:

Dear Momma & Daddy, I'm really sad that y'all are leaving for 13 days to go on a cruise! I am super excited about y'all visiting where Mr. & I went on our honeymoon, but I'm going to hate being out of touch with you for so long. Please be safe and come home early. :) I love y'all and can't handle too much time without yous guys.
Dear My Sexier-Every-Day Body, You are really starting to look better! I'm proud of us for all of our hard work! You are really adapting well to this whole working-out thing. I'm quite surprised. People keep asking us what our secret it...I don't understand. It's quite simple. I love food, I love flavor. If Mr. is eating a hot dog, I'll eat a turkey hotdog on wheat. If Mr. wants Pizza, I'll eat one baby slice & a huge salad. If stopped cooking with butter, I stopped eating sugar. I don't see how that's complicated. Losing weight is the easy part. Committing is the hard part.
Dear February Date, I am SO looking forward to you! You are tomorrow & we are going to get tattoos!! Have I decided yet? No....but I will! By today! :) Yay yay yay! Tattoo # 5! I'm a little terrified...I have no idea what I'm getting! I've got to make a decision before tonight is over so that we can e-mail our ideas/designs to our artist. I've gotta decide...
Dear Tummy, I've been feeding you all day!! Why are you still hungry?! :(
Dear Seared Tuna I'll Be Eating Tonight, Got any last words?
Dear Mr. Robinson, This is our month! I love you so much! Sorry for being a jerk yesterday. You're a great husband!
Dear Co-Worker/Work-Out Partner: PLEASE STOP BEING SO STUPID! YES, I will still be able to work out tomorrow MORNING even though I am getting a tattoo tomorrow AFTERNOON. My blood will not be too hot from working out, whatever that means. And YES, I'll still be working out this week. Stop making excuses. That's why your butt is so large. Stop being dumb. Let's just work out & burn fat, mmkay??
Dear Birds, I'm on Twitter now!!! Did you know?! Did ya, did ya, did ya?! @MyNewWifeLife
My letters today are all over the place...sorry, kids. Love!