Our church is going through a rough patch right now, and it may push us to leave and find a new church to call home. I have written two different posts about the crazy things that have happened. Many of you may have read one or both of the posts.
You'll notice that I'm not including links to either of those posts.
I've reverted them back to drafts, so they're no longer public on my blog.
Honestly, I was really torn on whether or not I should delete the posts. On one hand, deleting Parts 1 & 2 would not erase them from the minds of people who read them. Deleting the posts would prevent more people from learning the ins & outs of the situation, but I couldn't reverse anything. On the other hand, I thought it might be better to just leave the posts up and continue to blog about what's happening at our church. If I'm going to expose all of the bad things, shouldn't I blog about the conflict resolution, too? That would only be fair.
Meanwhile, a friend of mine from church and I were chatting. We're both very upset and have no clue what to do next. She said all she could do was open her Bible, and then she told me to read Romans 12:18-21, so I did. This is what I read:
Do all that you can to live in peace with everyone. Dear friends, never take revenge. Leave that to the righteous anger of God. For the Scriptures say, "I will take revenge; I will pay them back," says the Lord. Instead, "If your enemies are hungry, feed them. If they are thirsty, give them something to drink. In doing this, you will heap burning coals of shame on their heads." Don't let evil conquer you, but conquer evil by doing good. (NLT)
Believe me when I say that this is so hard for me to admit, but I felt instantly convicted when I read the words, Don't let evil conquer you, but conquer evil by doing good. They felt like hot chocolate during winter and I knew that I had to delete the posts I had written about the things happening at church. The posts were evidence that I was letting evil win. They were borderline gossip, and it had to stop. When I was writing the post, I was just trying to make sense of my emotions. To those of you who read about the crazy things happening at our church, you know what's going on and you know how I feel about it. I am just sad inside about so many different things happening at a church I've called my own for my entire life. I wasn't trying to gossip, I wasn't trying to cast myself or my faith in a negative light...I was just trying desperately to wrap my brain about something illogical to me. But, in doing so, I know I made some mistakes, said some things I should never have said, and made a private situation a little too public for the nature of what's going on. My intentions were purely selfish ... and I didn't think about how my words might impact the Kingdom. It is my hope that I didn't turn anyone off or away from God. I love my Lord. There are so many things I don't understand, but it's never made me second guess following Him. My salvation is the best part of me, arguable the only good part of me, and it's the best choice I ever made. My posts about the crazy things happening at church right now did not reflect any of the emotions I just described, and for that I am truly sorry.
However, we did have a business meeting last night at church. If you missed the two previous posts, all I say about the back story is that some changes were being made to our Church Constitution that my husband and I did not agree with because we felt like the changes were unBiblical. The issues with the constitution have been resolved - someone made the motion last night to send the entire constitution to a committee. The committee would include 7 people, carefully selected. Our main problem with the constitution as it was proposed was that it included really wonderful standards in the format of a covenant, but we couldn't make a promise to God that we weren't able to live up to. Now, the committee will re-work everything and represent all of the different points of view.
There are still some issues that haven't been resolved. We're praying about the things that have happened, are happening, and will happen. Are we completely satisfied with the way things are at church right now? Simply put ... no, we are not. Will we leave our church and find another? Perhaps. Time will tell. One thing I do know is that I want to be a better Christian. I want to do a better job of conquering evil, regardless of what "reason" (read, excuse) I think I have.
An extra special "thank you" to the people who told me some things I wrote about were out of line. I appreciate the honesty I received from you and from Mr. Robinson. ;) Some things probably do need to be kept more private than others, and this is a prime example. I'll get back to the fun posts tomorrow! =) Keep an eye out for posts about the 12 Dates of Christmas, our honeymoon, and a VLOG! Oh snap.
Also, did you notice I've got new buttons?!
200 x 100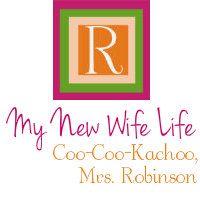 200 x 100