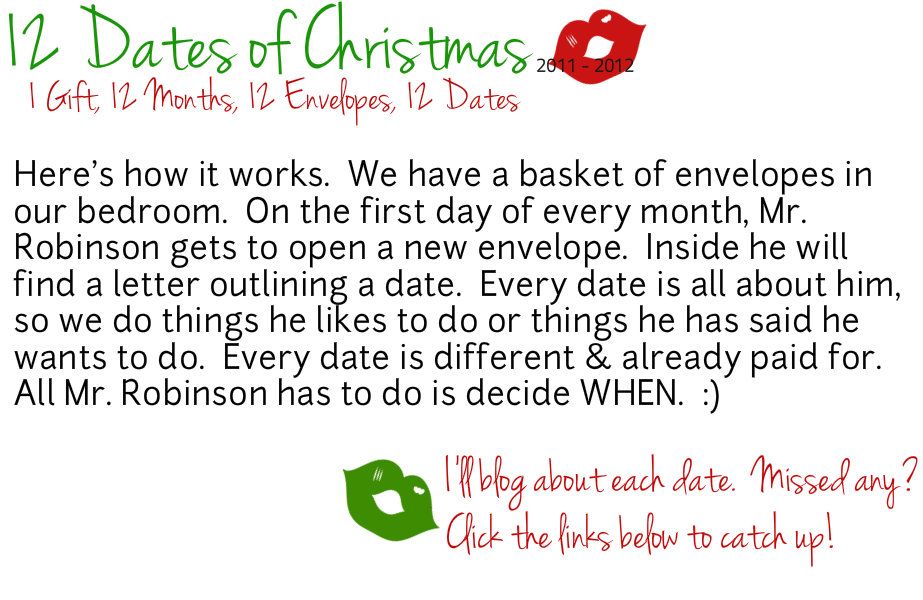 The First Date of Christmas: January
The Second Date of Christmas: February
The Third Date of Christmas: March
The Fourth Date of Christmas:
April
The Fifth Date of Christmas: May
The Sixth Date of Christmas
After I got home from work on Friday, June 22, we headed over to the beach for our 6th date. Mr. R had chosen this day to go on the date, but by the time the day rolled around I was really wanting a night on the sofa. I got my self together anyway, and off we went.
We had dinner at an over-priced little Italian place. That's the beach during tourist season, for you. The food was good, though. Plus, there was the added bonus of the restaurant being worked by actual Italian people. I started with an Amaretto Sour and my hubby downed a beer. Mr. R inhaled half of a loaf of garlic bread while I nibbled on a salad. Later, I had the lasagna that was only okay and Mr. R had chicken parmesean. He implied for a moment that it was better than my chicken-parm, but quickly changed his story. =) Then, we went to a comedy show.
It was absolutely hilarious. The show we saw was a lot like Who's Line Is It Anyway? but it's live, not recorded, and performed in a shopping mall. It's fantastic! My bridesmaids took me to the show for my bachelorette party last August, and they made the entire show about me/my wedding. Then we went on a double date in February, and now on a date with just us. It's been different every time, and hilarious all three times. =) Here's a clip from one of the games they played...
The Game: Good Morning, Myrtle Beach
The Rules: TV Morning Show format, but the guys can only say one word at a time while interviewing the girls who can only talk in unison. =) The audience came up with suggestions and they are selling full body latex. Haha! Think of one big condom for your entire body.
We laughed the entire night, and it was a great way to take our minds off of everything crazy that's been going on in our lives lately. Date nights are so much fun, and laughter is the best medicine. =) If you're ever in Myrtle Beach, make sure to check out Carolina Improv Company for a good laugh! They have adult shows, family-friendly shows, classes, etc.
Can't wait for our July date! =)