Today I'm linking up with Raven at A Momma's Desires and Pacifiers.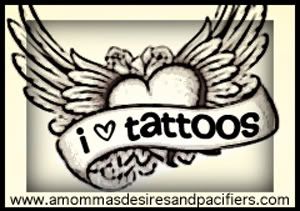 I am super excited about her starting this link-up and I hope to meet a lot of really awesome women with ink. :) I personally have four tattoos, and cannot - can.not. - wait to get more! My husband can't go more than a few months without some fresh ink, so I know that I'll have to make a decision soon as to what tattoo comes next. So anyway, here is what I have so far:
Age: 18

Location: Inner Left Wrist

Meaning:
It roughly means "beautiful person" and it was in honor of & is now in memory of my Aunt Lati who passed away from breast cancer in July of 2009. She was diagnosed in October of 2005, battled stage four breast cancer for 45 months. She was such an amazing person. She left behind a husband and a 5 year old daughter. If you care to read her story (she kept a blog) click here. Grab a box of tissues. It's been over two years and I can't go on the site without crying. It's still too fresh. She was too young and too good. But anyway, my family did a lot of Susan G Komen walks/races. Our team name is "Bella Person," which is a combination of my maiden name, Lati's maiden name, and her married name. It means beautiful person because we were doing it for her..the most beautiful person any of us had ever met.
I have this tattoo because she has an amazing story full of inspiration and faith. I wanted people to ask me because I wanted to do everything I could to share her story. She was and is such a precious person to her family. She was my favorite aunt. I loved talking about her. I still love talking about her. A lot of people think cancer is for old people. She was 34. I'm going to start crying if I keep on, so moving on to the next tattoo...



Age: 19

Location: Right Hip/Thigh

Meaning:


none






Age: 22

Location: Left Rib Cage

Meaning:


This tattoo is a fleur di lis. It is French for lily and is a symbol of strength and excellence. I got it because I really like the shape, and Mr. Robinson (who at that time was just my friend) drew it for me. :) We went and got tattoos together as friends. Um...the design inside this tattoo is supposed to (subtly) resemble a marijuana plant. The colors used are the Rastafarian colors, commonly associated with marijuana smokers. I got the tattoo during a darker time in my life...and this tattoo no longer holds the same meaning it did when I first got it. I had it done last January. Now, it's a reminder of falling in love with "the one" and a reminder how far I've come in the past year.






Age: 22

Location: Right Rib Cage

Meaning:


Finally, my fourth tattoo is a cross. More specifically, it's a Unity Cross. I did a post all about it not too long ago and you can read about it

here

. My husband and I both got this tattoo, except his is on his forearm. We put together a Unity Cross in our wedding ceremony, display the Unity Cross in our home, and have the tattoo on our bodies to remind us of our love for each other and for God. The other post goes into more detail. It's

so much more

than your typical cross tattoo.



As for future tattoos...I want tons more! :) I love having a new tattoo. I love doing the unexpected. I love shocking people. I love how expressive tattoos can be. I particularly love the adrenaline rush. Oh man, there's nothing like it. Getting tattoos is incredibly addictive because it is incredibly fun. Yeah, they hurt. During the tattoo-getting-process, I always VOW to never again get another tattoo. When it's healing and itching and driving me crazy, I SWEAR that I'll never go back! Once it's healed and pretty and not hurting or itching anymore, I start planning my next one :)

I love tattoos that are uniquely placed.
I love tattoos that collectively tell a story - like a sleeve.

That's my goal. I eventually plan on having my entire back tattooed. I love the idea of "sleeve" tattoos, or a tattoo that is made up of tons of smaller tattoos and all fit together perfectly and tell a story. I love it. I want a sleeve tattoo, but don't have the guts and would lose my job. I want a sleeve tattoo on my back. Does that make sense? I want my back to tell a story of who I was and who I am. I want my tattoos to symbolize where I have come from, how far I've come, how much I've grown, who I used to be, who I hope to be..

Can't wait to see everyone else's tattoos in the link-up! :-D If you have ink, go check out Raven's page. She's pretty cool and you absolutely should link up and meet this girl.