Noun:

A set of instructions for preparing a particular dish, including a list of the ingredients required.
Something which is likely to lead to a particular outcome: "sky-high interest rates are a recipe for disaster".
It sounds exciting to me! The truth is, I rarely follow recipes. I guess I've always been a "rule breaker," but with age comes maturity and responsibility. The only rules I
have the balls to
break anymore are recipe rules. Don't judge - I still have my fun. :) I am not an expert on cooking, at all, but through many trial and error experiences I've learned a thing or two. I know some of my readers tend to struggle if they're cooking without a recipe, so I wanted to share what I've learned! I've also included a
free
printable [Spice] Cheat sheet, so keep reading! =)
Two Things I've Learned About Cooking That Define My Cooking Style
(1) Restaurant food typically tastes really amazing because when compared to any started recipe, restaurants over-season everything on the menu.
(2) They cook with lots of butter, lard, and oil.
When I learned those two things, I started cooking with a ton of spices and butters! Everything I made tasted heavenly. And then, I gained 20 pounds. While cooking with butter does make everything taste better, it's not for me. I've experimented with spices and found that most basic meals start out with meat and rice (or noodles). Use my [Spice] Cheat Sheet as a guide for creating ethnic meals simply by getting creative with your spice rack!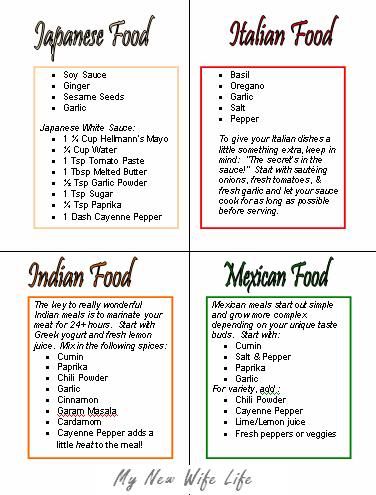 (1) Save the image to your computer. (2) Open the photo in Microsoft Word. (3) Enlarge so that the picture takes up the entire page. (4) Print. (5) Tack the Cheat Sheet up in your kitchen, add it to your recipe book, or keep it with your spices!
You'll notice that I didn't include any measurements or ratios to use along with the Cheat Sheet. I'm trying to break you of using a recipe, remember, haha! Trust me when I tell you that it will be fine. I never measure and I cook these meals all the time. Start with a meat (any meat) and marinate. Season. Add rice or noodles. Season. Smell the spices that you are using & ask questions. (I'm on Twitter!) Adjust the spice-ratios to suit your taste buds. If you don't have a particular spice, investigate alternatives or substitutes. If you don't like spicy foods, leave out the Cayenne Pepper. If you like EXTRA spicy foods, throw in some Crushed Red Pepper! Have an open mind and have fun.
Don't forget to bring wild experiments into the kitchen, passion onto the counter-tops, and madness onto the tables. Cooking doesn't have to be boring, and it certainly doesn't have to be tame. =) This is the first time I've ever created a "printable" or anything, so if you guys like it, grab it, or use it please let me know! Also, while I'm not an expert, I'd be happy to answer any questions you might have! Comment or e-mail me at MyNewWifeLife(at)AOL(dot)COM. Have a great day!