I wanted to shine some light on the bloggers' buttons I keep in my side-bar. We've swapped buttons because we like each other. We e-mail, tweet, text, and comment on each other's stuff pretty regularly. I don't keep their buttons because they paid me or because I paid them. It's not about money. I can't be bought. (But if you want to try, shoot me an e-mail. We'll talk, haha.) I have their buttons because I think they're awesome ladies. You should check out every single one of them...simply because I said so.. ;)


Aloha, Y'all ~ My name is Tiffany, and I'm a Army Wife to a newly Graduated Drill SGT. We are currently stationed in the South at Ft. Jackson. We recently moved here from HAWAII. I blog over at
All Because Two People Fell in Love
about our journey, living the Army life. I love to cook & bake, being in the kitchen is one of my favorite places. We also enjoy being outside weather with our pups, or just enjoying time together. I enjoy taking pictures and I'm a bit OCD when it comes to our home. My blog is a daily time capsule of our life one day at a time!!!!
&
Tiffany is my blogging bff, or one of them at least. We e-mail and stuff...we're even friends on Facebook! She's an absolutely sweetheart and always has the best advice. She's wise beyond her years when it comes to marriage. AND she encourages me to stay healthy and motivated!
&&&&&&&&&&&&&&&&&&&&&&&&&&&&&&&&&&&&&&&&&&&&&&&&&&&&&
Hey! I'm Moo! I'm originally from Kentucky! I attended college at the University of Kentucky, where I met my husband! I'm now an Army Officer's wife, who has spent the last year cheering her husband on through countless schools, getting engaged, quitting my job, moving cross country, planning a wedding, marrying, moving cross country again, sending my husband off to war, being a newlywed, and trying to figure out this newlywed army wife life! If you read my blog, you will hear about my furbaby Skeeter, my obsession with the show Army Wives and the ups and downs of deployments. You'll see photos from all my travels, our newlywed life, and day to day randoms. This isn't how I thought my life would be, but I wouldn't have it any other way!
&
Monica is my guilty pleasure girl. She makes me feel better about myself when I eat horrible foods and drink too much by bonding with me over our bad habits. I love e-mailing with her because we always send each other BOOKS! She's southern & fabulous...and her blog is a must-read. Oh, and if you ever need help getting into a bottle of wine when you've lost your cork screw, she's your girl. :)
&&&&&&&&&&&&&&&&&&&&&&&&&&&&&&&&&&&&&&&&&&&&&&&&&&&&&
Hello, I'm Meg and I write over at
Mr.C & Me
. It's
a lifestyle blog that features the day-to-day life of my husband and I. We are newlywed high school sweethearts who have traded in Illinois cornfields for cold Minnesota winters and are always on the look out for the next fun experience. We hope you'll pop over and follow along on our adventures as they range from the mundane to the insane and everything in between.
&
Megan and I were cut from the same mold...except when it comes to our religious and politcal beliefs. :) I adore this girl and if she didn't live in such a dreadfully cold place, I'd be coming to you live from her living room! Make sure you go get a giggle from her blog...but don't be surprised when she slaps you with something insightful that causes you to suddenly become self-reflective.
&&&&&&&&&&&&&&&&&&&&&&&&&&&&&&&&&&&&&&&&&&&&&&&&&&&&&
Hey y'all! My name is Bethany and I am a [self-proclaimed] health guru; part-time hippie. If y'all need any health advice, or are in need of a good laugh, you're always welcome at my place! :)
I first started following Bethany's blog because I know her real-life twin. Best. Decision. Ever. She's...well, she's Bethany. And you'll LOVE her! I promise, she doesn't only blog about health stuff - she blogs about interesting things, too. Oops! I kid, I love learning from her in more ways that one. She's honest, straight forward, and has as many soap-boxes as I do. :)
&&&&&&&&&&&&&&&&&&&&&&&&&&&&&&&&&&&&&&&&&&&&&&&&&&&&&
Chickadee + Dudette = Chickadette... aka Ashley Marie. The girl from that thing. The blog about who she is.
&
Oh, this one has one heck of a spirit. I have several tattoos myself, and aspire to one day look like Chickadette with her wonderful ink (although I could never pull off arm-tattoos on my jiggy branches). BUT, she is stunning and quirky and...if I'm ever a mother, I hope to have a mothering style similar to hers. We already have some stuff in common, so I'm sure it'll be easy to pull off! haha I can't wait to have lots of wine with her one day when she's on her way to Charleston to model some stuff. Yep, for real. She's awesome...check her out, and do it now.
&&&&&&&&&&&&&&&&&&&&&&&&&&&&&&&&&&&&&&&&&&&&&&&&&&&&&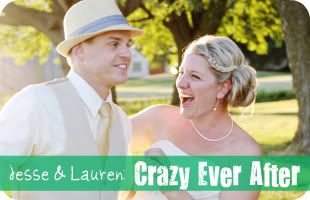 Lo here. Much like the rest of these lovely ladies gracing the pages of My New Wife Life, I too like to blog all about it. What's it? It is everything I deem worthy of recording. With the occasional poop story. So basically nothing too very awesome. So you probably shouldn't read my blog. It's really lame. In fact I dare you not to read it. But if you insist upon reading my rambles, please let me know you stopped by. Your comments are like the air I breath. I need them to survive.
&
Lauren was the first blogger who reached out to me and sort of showed me the blogging-ropes. I'm forever indebted to her, but I'd have it no other way. She is absolutely hilarious in every. single. post. She is honest and entertaining and she really puts it all out there. You probably already follow her blog..she's that amazing...but if you don't, start.
&&&&&&&&&&&&&&&&&&&&&&&&&&&&&&&&&&&&&&&&&&&&&&&&&&&&&
My blog is mostly about being a newlywed. We'll be married for 6 months on April 8. We've been together about 4.5 years total. I started my blog at the beginning of the year, just as a place to keep track of pictures, memories, etc. from this new chapter of our lives as newlyweds, and homeowners.
I'm 24, work in marketing, and am equally obsessed with dogs and cats :-)
&
Val and I have a lot in common! We are both newlyweds trying to figure out what in the heck we are doing! Our husbands didn't come with manuals, not sure about yours... but Val is sweet! She always leaves great comments and I enjoy chatting away with her from time to time! :) And how precious is her button? Her blog has a little of everything - love, fashion, recipes, life. Check her out!
&&&&&&&&&&&&&&&&&&&&&&&&&&&&&&&&&&&&&&&&&&&&&&&&&&&&&
Hey y'all! I'm Pamela & I blog over at Pamela's Place. I am a 20 somethin southern girl, who loves sweet tea (& cupcakes!) more than anything. You'll hear me talk a lot about my hubby (B) & our cute little furbaby, Bentley!
My place is your place, so come on over!
I only recently started following Pamela's blog - we were "introduced" through a mutual friend because we are both trying to get into shape! Since then, we have learned that we can talk and chatter away with each other with ease, and Pamela is a sweetheart! She's married to some really tall guy and isn't a very adventurous cook, but she's not all bad. ;) Kidding, again!
&&&&&&&&&&&&&&&&&&&&&&&&&&&&&&&&&&&&&&&&&&&&&&&&&&&&&
Hey there! I am Amber and my sweet husband is Corey. We were both born and raised in the south and love our sweet tea, fried food, and country music (that last one may just be me). The Pless Press is our story of faith, marriage, crafting, cooking, and living life. We would love to have you stop by and share in our journey!
Blog /
Facebook
/
Twitter
/
Pinterest
&
Mrs. Amber is a wonderful lady to add to your list of daily reads. She has encouraged me in more ways that she probably knows, and is always writing a post that puts things into perspective for me. Some bloggers, I enjoy reading because we have a lot in common or I think they're funny. There's something different about Amber because it doesn't matter if we ever meet in real life or not...she's my sister in Christ. Give her blog a shot...you'll be impressed with this lady!
&&&&&&&&&&&&&&&&&&&&&&&&&&&&&&&&&&&&&&&&&&&&&&&&&&&&&
My name is Emily - but you can call me E-Ho. I blog about stuff over at
Hope Squared
. This stuff includes mostly my cat, but also for time to time I will add in something I cooked or sewed. I don't cook often. Nor sew. I am lousy at this domestic life. I have been married for a year to a hunk name Steve - thankfully he likes my lazy wife ways.
Blog
//
Twitter
//
Facebook
&
Remember Lauren from "Our Crazy Ever After" ??? I follow E-Ho's blog because of Lo-Ho. ;) Those are two peas in a pod...when we e-mail or tweeeeter each other, they even "write" alike. What I'm trying to say is, while they BOTH are acutely original, if you like one you'll like the other. Emily is a hoot. She's done a tone of traveling and I will def be using her as my personal, unpaid travel agent next time I'm planning a trip. :) Sorry, unrelated! Emily is fantastic...go check her out! She's full of knowledge and humor and kitty snuggles!
&&&&&&&&&&&&&&&&&&&&&&&&&&&&&&&&&&&&&&&&&&&&&&&&&&&&&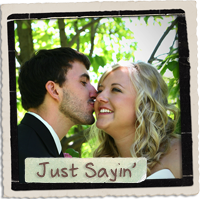 Hello! I'm Alison over at the Life of Two SoKools. I'm a newlywed just trying to share a little of my life, whether it be awesome recipes, being frugal, or cute DIY projects. Stop by. I love meeting new people!
&
Alison and her hubby are to-die-for precious. I am such a fan of small blogs that are personal and cute and quirky and intimate. That's what I love about Alison's blog (and about some of these other blogs, too). She is honest and true to herself.
&&&&&&&&&&&&&&&&&&&&&&&&&&&&&&&&&&&&&&&&&&&&&&&&&&&&&
Hey there! My name is Autumn. I'm a 20-something, newly-married, West Virginia girl. I met my husband in Florida, while I was having cancer treatments in 2009. We got married on August 6, 2011.
Best
.
Day
.
Ever
. I was so excited to be a
WIFE!
When a girl gets married, she automatically becomes a "Mrs," but I believe that it may take a lifetime to become a
true
"Mrs." My blog is where I share all of the happenings, laughs, lessons, and discoveries that I have while I am learning to be a "Mrs." I'm a "Mrs." in the Making! I hope to meet you soon!
Autumn is my newest friend, and I already love her! We wore the same wedding dress. How 'bout 'dem apples, y'all! Anyway, since she is new...I have a limited opinion of her, BUT she is super sweet, her blog is still young, and she is learning lots of the same lessons I'm learning! I love reading her blog and I know you will as well! :)
&&&&&&&&&&&&&&&&&&&&&&&&&&&&&&&&&&&&&&&&&&&&&&&&&&&&&
I'm Bronwyn & I blog over at
Our Beautiful Blessings
. I began my blog as a virtual scrapbook to document my life as a newlywed and beyond. I'm a follower of Jesus Christ, a new wife, a college student, a
pinterest
addict, a crafter, and oh so much more. Follow me on
Twitter
. Email me at
ourbeautifulblessings@gmail.com
.
&
Seriously?! How cool of a name does this chick have? Love it. Anyway, this is my NEWEST button and my NEWEST bloggy-friend. I'm pretty darn excited because her and her husband have a heart for missions, are newlyweds, and love the same Jesus we do! I'm thrilled to have her button on my blog...I wish I could tell you more about her...but I can't. Cuz she's brand new. AND she has a little baby blog that needs some of YOUR lovin'.
&&&&&&&&&&&&&&&&&&&&&&&&&&&&&&&&&&&&&&&&&&&&&&&&&&&&&



Alright, now go! Check 'em all out! =) It's Sunday, you guys have time! And have a fabulous first day of April!