&&&&&&&&&&&&&&&&&&&&&&&&&&&&&&&&&&&&&&&&&&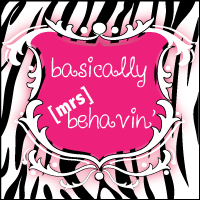 I believe that God doesn't put us into situations unless he thinks we are strong enough to handle them. My husband is currently deployed, and I have faith in his abilities, faith in my strength and ability to handle it, and faith in God that He will bring him home safely! If He brings you to it, He will pull you through it.
&&&&&&&&&&&&&&&&&&&&&&&&&&&&&&&&&&&&&&&&&&
Some people are more private about their beliefs and chose not to be a part of this post. However, these ladies are still rather awesome and I hope you'll check them out.
Coo Coo Kachoo,
Mrs. Robinson