Today's special guest is Megan. We've determined that if we lived much closer together, we'd make great friends. =) She's a hoot, she's bossy, she's got oldest-child-syndrome, and probably as many opinions as I do! Oh, and she's got quite the interesting accent. Enjoy!

:::::::::::


Hello
My New Wife Life
readers! I'm Meg and I blog over at
Mr.C & Me
, a lifestyle blog that features the day-to-day life of my husband and I. We are newlywed high school sweethearts who have traded in Illinois cornfields for cold Minnesota winters and are always on the look out for the next fun adventure.
Before we begin - I'd like to thank Mrs.Robinson for letting me (attempt) to fill her shoes while she's off vacationing with that husband of hers. When she invited me over for a guest post I immediately RSVP'd even though I didn't know what I wanted to write about...but then it hit me!
Mrs. Robinson has been doing a great job of eating healthy (props to her on that for sure!) & has even shared a few recipes with her readers in hopes of getting the rest of us on track to eating right...but some of us just aren't on board yet.
Alright, alright, so that's a nice way of putting it. Let me rephrase.. while Mrs.Robinson's eating all awesome+stuff, some of us are still gettin' down with our bad selves! hehehe And while I'll be the first to admit I need to start eating better, this torrid love affair I have with good food (okay okay, so it's really food that's bad for you but tastes oh so good!) just isn't ready to let me go over to the
dark
healthy side yet.
So, on that note, I thought I'd share a few of my favorite recipes with you, in case you are feeling a bit naughty + indulgent today. After all,
while Mrs.Robinson's away we bloggers will play.
:)
To start off -
the ultimate BBQ pulled pork
! It's insanely easy to make and absolutely delicious. It's an instant crowd pleaser, great for picnics, family get togethers, or quiet nights at home after a long day at work. Since it uses a crockpot/slow cooker you can set it in the morning & come home to a mouth watering meal.
Recipe is as follows
- Place a pork tenderloin in a slow cooker/crock pot, pour a 12-oz can (or bottle) of root beer over it and cook on low for 6 hours or high for about 4. You basically want it to be easy to shred. Then discard the juice, shred the pork into tiny pieces, smother it with 1 jar of your favorite BBQ sauce and heat until sauce is warm. Serve on buns.
Next up, are
roasted brussels sprouts
, something I believe even Mrs.Robinson might try! Again, I'm all about easy+ tasty.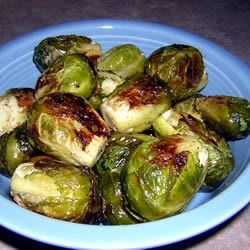 Recipe is as follows
- Preheat oven to 400 degrees. Place brussels sprouts (they can be fresh or frozen) in a ziplock bag with some olive oil, pepper, and salt (kosher salt/sea salt is best but not required). Seal tightly & shake it up! Then pour onto a baking sheet (or put in a baking pan of any sort really) and place on center oven rack. Roast in the over for 30-45 minutes. Brussels sprouts should be dark brown, almost black, when done. Adjust seasoning with kosher salt, if necessary. Serve immediately.
Of course now that we've had our meat & veg, it's time to add in a little fruit. I am an apple fiend, eating one almost every day, and some times I like to change things up by dunking my slices in peanut butter, nutella, or, on special occasions, this hard-to-pass-up
decadent apple dip
. With brown sugar and cream cheese, it's so sinfully scrumptious you won't be able to resist!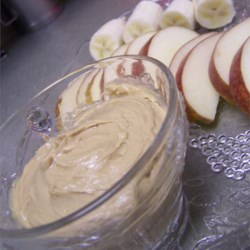 Recipe is as follows
- 1 package of cream cheese, 1 cup of brown sugar, and a dash of vanilla extract. Mix with a spoon until smooth. Serve with apple slices.
Ha! Easy right? Well my next fruit-centered dish is even easier (if you can believe it!). To some people these are
"dessert oranges"
while in Greece it's known as Portokalia me Meli...and in my house, well, it's known as just plain yummy. So, grab some fresh orange slices, drizzle a little honey over it, add a sprinkle or two of cinnamon and you're done.
And, last but not least... in case you wanted a more traditional dessert, ie: instead of oranges, then look no further than these drool-worthy
oreo truffles
. Mr.C & I have brought these to many a party. They are fun to make and people always seem to gobble them up. Plus they are good frozen which is perfect when you want a chilling treat.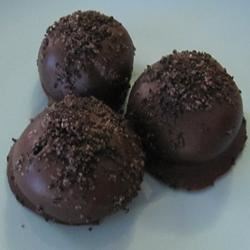 Recipe is as follows
- Crush up 1 package of Oreo cookies. Add 1 package of softened cream cheese to the crushed up cookie pieces. Stir together well. Then melt 2 packages of semi-sweet baking chocolate either on the stove or in the microwave. Roll the crushed cookie/cream cheese mixture into balls and dip in the now melted chocolate. Place covered balls on a baking sheet lined with wax paper. Place baking sheet in the freezer or fridge for 1-2 hrs. Serve chilled.
So there you have it!
A few easy recipes from Mr.C & Me's cookbook. Sure they won't make you super model skinny or help you achieve a healthier lifestyle but hey, we figure if they put a smile on your face and a fork in your hand then we've done our job! After all, as Virginia Woolf once said,
"One cannot think well, love well, sleep well, if one has not dined well."
It's been a pleasure visiting with you all & thanks again to Mrs.Robinson for having me!
xo, Meg
::::::::::::::::
Isn't she great?! Go on over to her blog, become her newest follower, and leave her some love! Have a great day!